A Kiss For The Petals - The New Generation! (その花びらにくちづけを にゅーじぇね!, Sono Hanabira ni Kuchizuke wo - Nyuu Jene!? ) is the first of St. Michael Girls' School debut releases, the nineteenth visual novel in the A Kiss For The Petals series.
Saint Michael's Girls' School… The girls of the annex campus have erupted into a bit of revelry.  The reason for the celebration is the Best Couples election being held at the main campus.  The students of the annex campus hold the older girls of the main campus in the highest regard, so it was bound to happen that they should proclaim…
"Let's hold our own Best Couples election!"
…And so, the loveliest, most becoming couples were subsequently nominated.
Couple # 1 are childhood friends Misawa Nagisa and Takahata Rina. Couple # 2 are Kimishima Ai and her younger twin sister Aya. And transfer student Onohara Hazuki, who had been regarding the entire thing as no concern of hers, was shocked to hear that she too was selected as a nominee.
However, her partner is the sheltered princess Suoh Manami.  Hazuki has actually been a secret admirer of the impeccable Manami, but there's little chance of them becoming an actual couple.  Though their classmates gush over them, it's ultimately hollow.
But then, when Hazuki courageously pleads with Manami for them to become a Best Couple…
Characters
Edit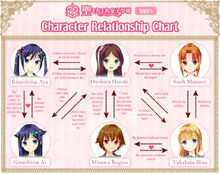 External links
Edit
http://erogedownload.com/downloads/a-kiss-for-the-petals-the-new-generation/ Download Free, eng sub